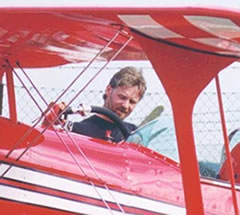 STEVE CARVER
Steve was born in Lancashire and had his first aerobatic ride aged thirteen in a Chipmunk, G-ARGG, belonging to ANT Flying Club at Blackpool Airport. Shortly after this he joined his local Air Training Corps squadron in Wigan, continued with the Chipmunk flying and went solo at Burtonwood in a T31 glider, a two seater in tandem with an open cockpit.

Steve left the Air Training Corps in 1980 in order to study for a degree in Mathematics and Philosophy at the University of Leeds. "Civvy" gliding proved to be too expensive at this stage and so building radio controlled slope soarers was the next best thing.

Following graduation and a one year post graduate course, he began lecturing in pure and applied mathematics, and eventually took up gliding again with his wife, Elaine, at the Derbyshire and Lancashire Gliding Club. The long term goal was aerobatic flying and so in 1988 Steve obtained a PPL at Sherburn via a Silver C and decided to go commercial shortly afterwards.

Having had several gliding expeditions to Aboyne, Scotland, Steve applied to be tug pilot there for the 1990 season and by October had the necessary 700 hours for the issue of a CPL. Following six years on the Saab 340 turboprop, he is now operating the Embraer 145 jet as a training captain for British Midland Commuter.

G-EWIZ turned up in an advert in Pilot magazine, seen one evening while on standby at Glasgow Airport. Steve has subsequently restored the aeroplane with the help of Rob Millinship and it was returned to the competition and display scene during the 2000 season. Steve was the British National Intermediate Aerobatic Champion for 2000, also winning the Newbold and Kernow trophies and, most recently, the coveted Tiger Trophy sponsored by the petroleum company Esso. He is the holder of a CAA aerobatic display authorisation.

Steve and his wife Elaine, who is also a pilot, live in Derbyshire with their two dogs, Jasmine & Dill.